Twin City Coin Laundry
Home of the HUGE 80LB Washers
1229 North Truman Blvd, Crystal City, MO 63019
Meet the Dexter T1200, 80LB Washer
Largest Washers in Jefferson County
Perfect for those HUGE Items
Proudly MADE in the USA!!
NEW HUGE Loading Door
NEW 3rd Rinse Option (2 Rinses already Included)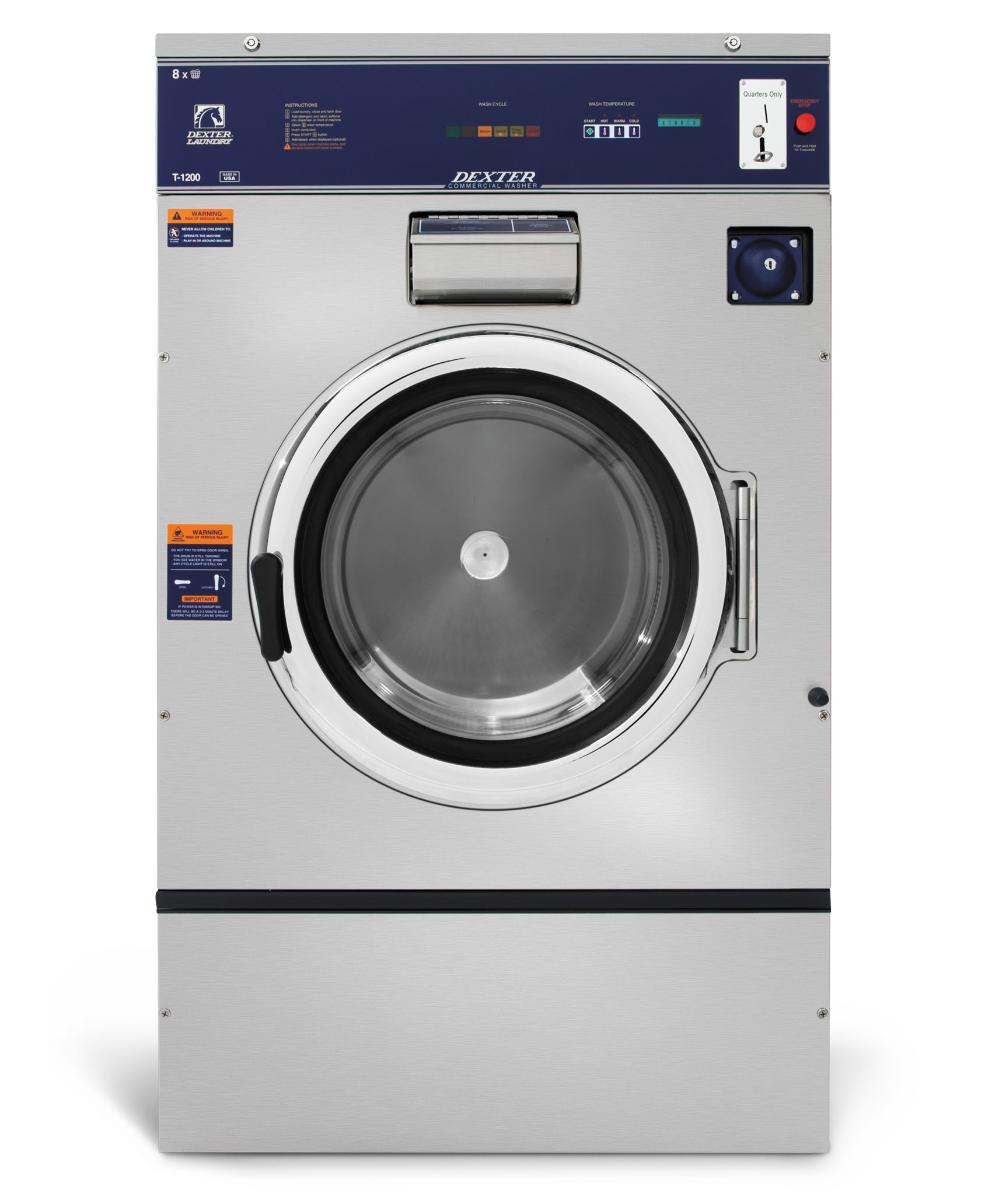 The House Springs Coin Laundry is proud to support American Companies.
All of our Washers, Dryers, Water heater, Bases, Bulkheads, Vending machines, Tables & Chairs are all made right here in the United States of America.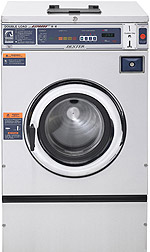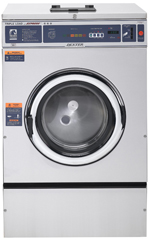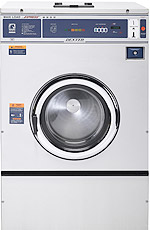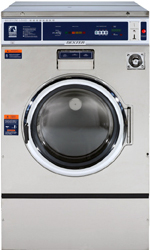 61 High Quality, American Made, Coin Operated Dexter Washers & Dryers to enhance your laundering experience
Dexter Express Washers:
Dexter EXPRESS washers are an investment in the success of your business. They don't just look great on the outside with polished chrome doors and all AISI 304 stainless steel top, front and side panels; they are even better on the inside. Featuring commercial grade components, like over-sized bearings and heavy duty bearing housings, Dexter washers are built to run, and built to last.
Dexter EXPRESS washers are designed for maximum efficiency and feature our sump-less outer tub design to save water on every cycle, as well as variable frequency drive technology to lower noise, improve performance and lower electrical usage. EXPRESS washers also feature a final spin speed of 200 G-Force, double the G-Force of non-EXPRESS models. This higher spin speed saves even more time, energy and money in the drying process. And faster drying is something customers notice and appreciate, and it keeps them coming back! Cycle after cycle, year after year, your EXPRESS washers will show up for work ready to take on the workload of the most demanding self-service laundry operation.
All Dexter washers feature an easy-to-use emergency stop button for peace of mind. The simple 3-2-1 countdown and audible signal prevents nuisance activations, but still allows the cycle to be stopped quickly in the event of an emergency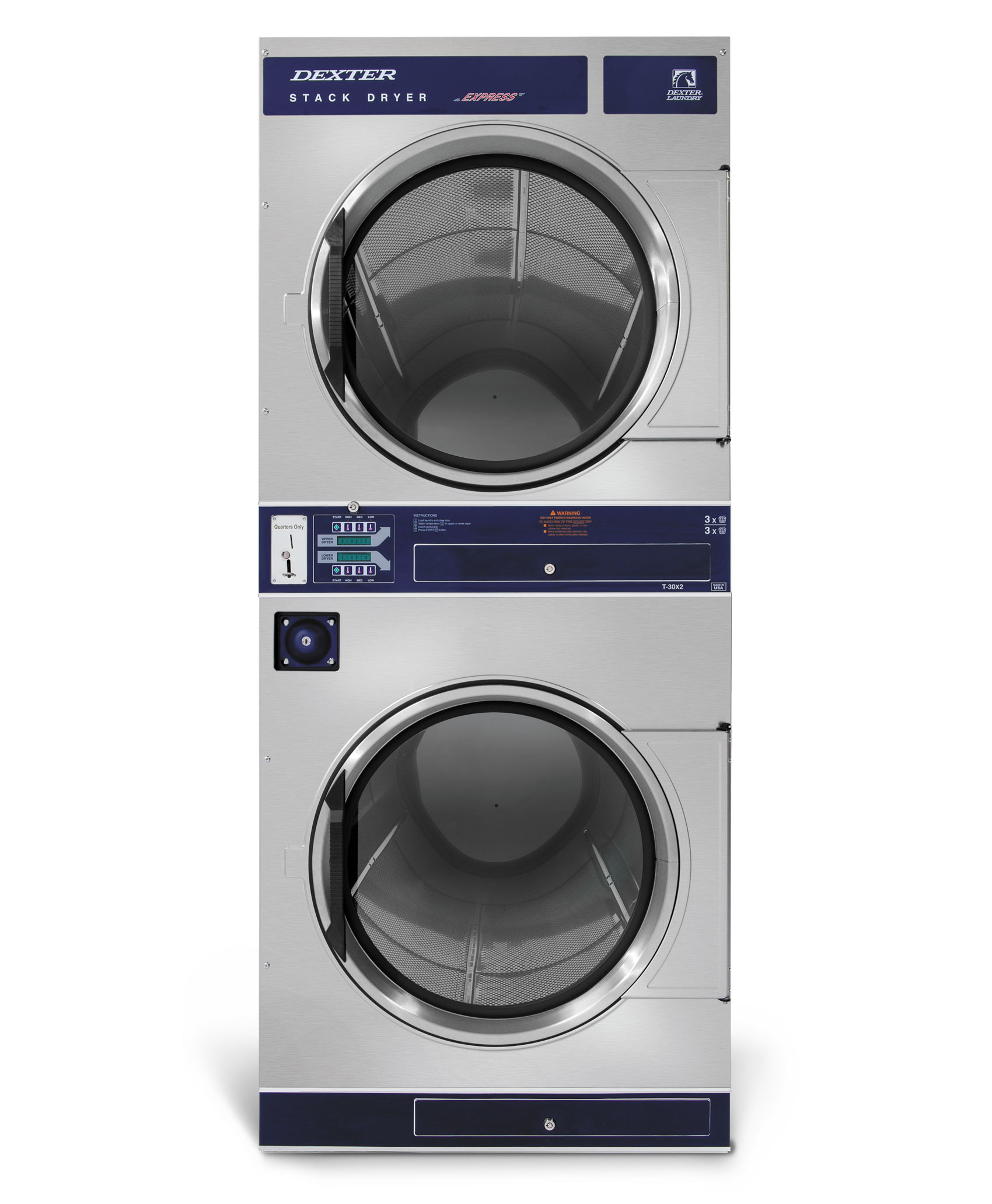 Dexter Dryers:
Dexter's EXPRESS Stacked dryers dry faster, and use less electricity and less gas. With a reputation of having the best performing stacked dryers available, Dexter can help you maximize your space and your profits. The "stacked" design allows you to increase your drying capacity without using up valuable retail space and Dexter engineered our dryers specifically to help you increase the turnover in your commercial laundry. Dexter's stack dryers offer faster drying, lower energy consumption, greater energy efficiencies.
Additional features that help enhance dryer durability and reliability include a new, improved spider, shaft and bearing assembly; a lint-free computer and coin drop area, and easier access to heat chambers and burner housings for simplified cleaning.
Open 5:00AM - 11:00PM 365 days a year.
©Copyright 2017, Systems Engineering Group Inc.
All Rights Reserved.