Pre-Owned Commercial Laundry Equipment
Washers, Dryers, Soap Dispensers, Change Machines
UniMac
50LB Washer
345 G-Force Extraction

This item is no longer available.
Click here to see all available washers.
UniMac 50LB Industrial Washer - Non-Coin 345G Force
Number Available: 0 SOLD OUT Click her to return to Laundry Equipment
Availability: Immediate
Brand: UniMac
Model: UF50PVTU30001/ Product #53007
Capacity: 50 Pound
Age: Date Code 1197 \ NEVER BEEN USED Just like NEW!
Price: Sold Out
Power Requirements: 200\240VAC, 50\60Hz Single Phase, 26Amps
Weight: 1704 LBS
Dimensions: Approx 39" Wide 44" Deep 59.5" Tall
F.O.B.: St. Louis, MO area (63051)
Shipping Quote: Click here for shipping quote
Money Boxes\Coin Boxes: N\A Non Coin Unit
S.E.G. Item Number: SEG-UNIMAC50LB-TW-1-5875
Contact SEG for more information & to purchase Click here
Documents & Information (Adobe PDF Files. Click here to get Adobe Reader) Or contact us to fax.
Specification Doc
Features Doc
Parts Manual
Description: This one is a beauty, Purchased in 2000 but never even installed. Still sitting on the original palette with the plastic still on the stainless steel. This is a soft mount washer, OPL (Non-Coin), A great machine for any industrial laundry facility.
Specially designed for foundationless installations in medium to high volume laundries.
**Comes with Installation\Maintenance, Operation\Programming & Parts Manuals, Programming Keys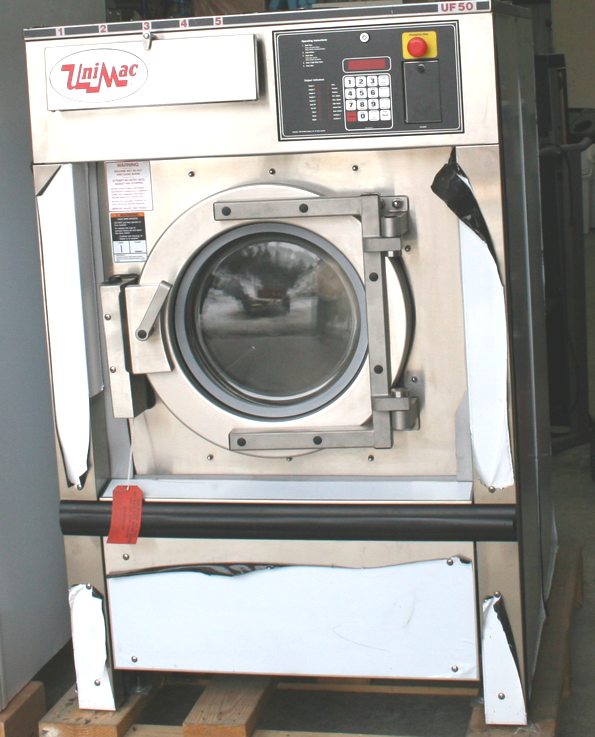 Shipping Options
Need more info? Want to buy?
S.E.G. Contact information